October 2017
---
< Soon to be FIXED > Dear Friends - We are changing soon here at stanridgway.com to a "wordpress" website. Photobucket.com now charges $400 a year for it's photo sharing to websites like ours. whoa. Too much. The photos are still viewable - ya just have to click on link. Bear with us as we find another way. Thanks you foiks!
---
January 2017
---
Stan Ridgway and Pietra Wexstun release 2 new digital albums. "Priestess Of The Promised Land" and "RidgwayWexstun Summer Collection 2016" Both Available now. Only at bandcamp.com
---
October 2016
---
Stan Ridgway awarded Premi Tenco prize for 2016. Stan and Pietra will perform one 20 minute set in San Remo Italy on the night of Oct. 21st at 8PM along with other award winners. No other shows have been announced.
Links to tickets and more info on our tour page. More news as we get it....Ciao !
"A great honor and with such important musical history for Italy and the world. Thrilled to accept this award and to also share the stage with such great artists in October in San Remo Italy. I feel music, song and art are really the last great truths we can depend on in this crazy upside down world. Thank you friends! Pietra and I both will see you all there very soon and look forward to playing the songs for you! " Stan Ridgway 7/11/2016
---
October 2015
---

---
---
March 2015
---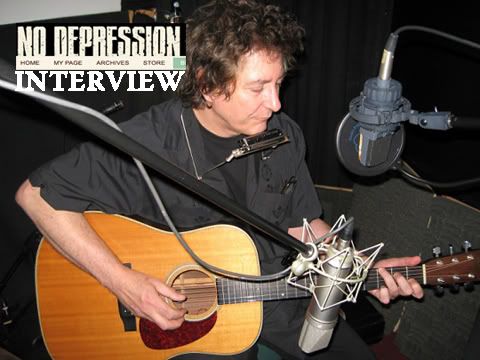 ---
July 2014
---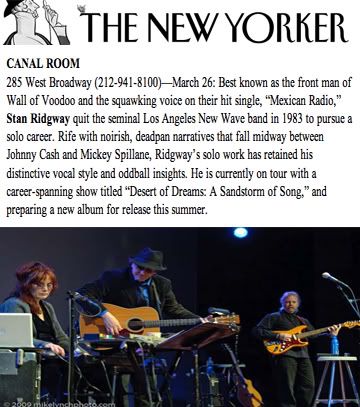 pic: Mike Lynch
---
April 2014
---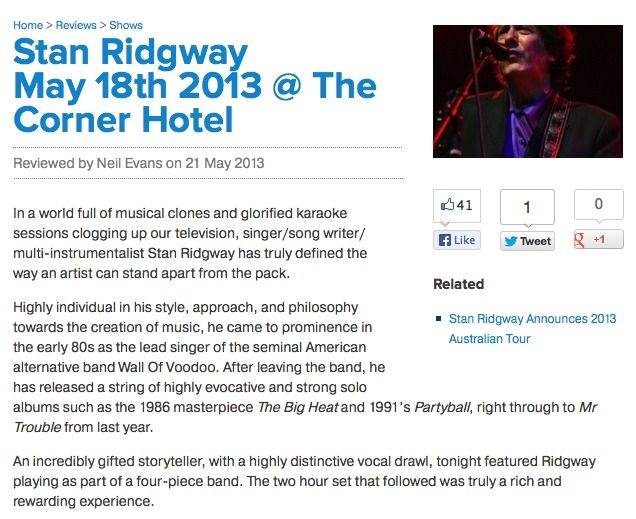 ---
January 2014
---
---
May 2013
---
Watch the tour promo video courtesy of Metropolis Tours for Australia May 2013.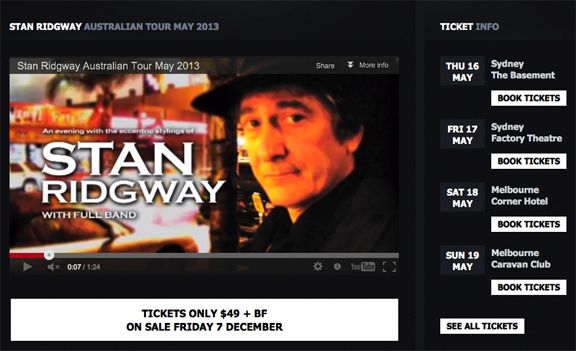 ---